How can we help you? Contact This email address is being protected from spambots. You need JavaScript enabled to view it.
Mission
At Lazarex Cancer Foundation we improve the outcome of cancer care, giving hope, dignity and life to end stage cancer patients and the medically underserved by providing assistance with costs for FDA clinical trial participation, identification of clinical trial options, community outreach and education.
Why Lazarex? What Makes Us Unique?
To our knowledge, Lazarex is the only 501c3 public charity that does what we do. We focus on helping patients with all types of cancer, of all ages, from all walks of life. We remove the barriers to clinical trial participation for end stage patients seeking life through FDA clinical trials. We promote early stage diagnosis to increase survival, especially for the medically underserved. For these patients Lazarex is literally their last line of defense.
History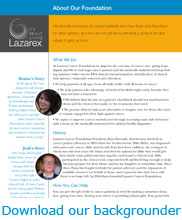 Lazarex Cancer Foundation President, Dana Dornsife, first became involved in cancer patient advocacy in 2003 when her brother-in-law, Mike Miller, was diagnosed with pancreatic cancer. Mike and his wife Erin had three children, the youngest of whom was only four years old. Dana searched for options for Mike that would give their family some additional time together and found a clinical trial. Mike participated in the clinical trial, responded well and lived long enough to help his sons prepare for their future and for his daughter to remember him.
Since then, Dana has fought tirelessly for patient advocacy and the expansion of available resources on behalf of those cancer patients who have been told they have run out of Lazarex Helped Us medical options and there is no hope left. In 2006 she founded Lazarex Cancer Foundation.